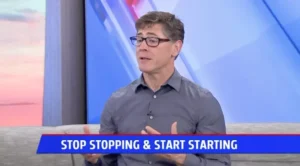 Our approach to parenting, coaching and even personal improvement is to get rid of bad habits and behaviors. But this isn't the best way to get better, and it may even keep us stuck.
The Problem with "Stopping"
Your focus is on what you don't want to do
It does not provide you the right instruction
Best to Focus on "Starting" the Behavior You Do Want
It focuses on a specific, helpful action
It then naturally minimizes what you don't want
Examples:
PARENTING FOR KIDS WELL-BEING
Instead of limiting screen time…
Help kids play 60 minutes a day and get 8 hours of sleep
COACHING FOR SPORTSMANSHIP
Rather than just tell them to "stop complaining"…
Encourage them to practice gratitude, or plan and prepare to overcome the problem
FOR HEALTH (LIKE WEIGHT LOSS)
Instead of only cutting out sweets and high calorie drinks…
Set goals to eat a specific amount of veggies and drink a half gallon of water daily
Watch my FOX17 interview below where we dive deeper into this discussion.