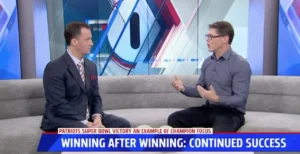 Success changes things. No longer are you striving for something. You have already achieved it. Now you are a champion and expectations change. You may believe your own success story and become overconfident. More people want your time and your focus and energy can get divided. Pressure increases. How champions react to winning determines if they will win again.
Before the first win, champions tend to be confident in their abilities to perform at a high level. They either have a focus on preparation and task execution or feel an extra incentive to do well in that competition. Some report being more relaxed than usual, improving their focus. All are connected to their performance, without external distraction.
Champions who enjoy continued success maintain confidence in their ability to win again, totally focused on doing their job.
But those who have a performance decline and/or are unable to repeat as champions get distracted by a focus on the outcome. They become distracted by expectations to win (most stressful). They report a lack of a clear mind. Increased demands pull their time from training and rest.
The key to continued success is to keep the focus on the doing.
Learn more about managing success in the interview below: